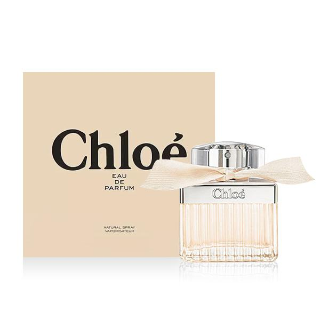 CHLOÉ, A fresh powdery floral Eau De Parfum, 50 ml
Size: 50 ml (1.7 fl oz)

A fresh powdery floral fragrance
Top: peony
Heart: rose petals, magnolia
Base: cedar, ambergris

Item code: 64980408

DESCRIPTION
Intimate and sensual, the Maison's signature fragrance draws on the classic rose, the ultimate feminine scent, to create a modern and timeless perfume.

At once fresh and romantic, confident and distinctive, this rich and complex Eau de Parfum encapsulates the many aspects of the Chloé spirit. The fragrance is enclosed in a modern, delicately pleated bottle adorned with a hand-tied ribbon.

끌로에
산뜻하고 파우더리한 플로랄 오 드 퍼퓸, 50ml
사이즈: 50 ml (1.7 fl oz)

산뜻하고 파우더리한 플로랄 향수
탑: 모란
미들: 장미 꽃잎, 목련
베이스: 시더, 앰버그리스

아이템 코드: 64980408

설명
은밀하고 관능적인, 끌로에의 시그니처 향수는 페미닌의 극치인 고전적인 장미 향으로 여성들에게 모던하면서도 타임리스한 향수가 되어줍니다.

산뜻하고 로맨틱하며, 대담하고 독창적인 이 풍부하고 다채로운 플로랄 향수는 끌로에 정신의 많은 면을 담고 있습니다. 향수를 담은 모던한 보틀의 바디에는 섬세한 선이 주름을 이루고 있으며 손으로 묶은 리본으로 장식되어 있습니다.
https://www.chloe.com/us/fragrance_cod46467838kb.html